Our family recently returned from a six week adventure to Ecuador. I thought it would be simple to eat gluten-free (GF) in Ecuador, but it turned out to be more complicated than I expected!
One of the reasons we chose to go to Ecuador was that we thought it would be easier to eat gluten-free. (We originally considered traveling to Chile, but were told that wheat bread is a main staple of each meal.) I read a few websites here and here and thought I was ready to eat GF in Ecuador.
Packing
Since my son and I both have celiac disease, I packed a separate suitcase with a lot of GF "staples", including: cereal, flour, pasta, crackers, pretzels, individual peanut butter packets, pancake mix, bread crumbs, oatmeal, protein powder, individual soy sauce packets, tortillas and sandwich bread.
We were staying in multiple Airbnb rentals and I wasn't sure what I would find in each kitchen. So I also packed parchment paper (cookie sheets size as well as rolls) and toaster bags, a large silicone spoon, spatula, and pancake spatula, as well as a wire whisk.
Week 1
We flew from Oregon to California and stayed for a few days before flying to Quito, Ecuador. We arrived to our rented 16th century loft in the Historic District at 1:30am. We were hungry when we woke up the next morning. I was thankful our host left bottled water and that we had packed instant traditional oatmeal packets for my husband and daughter, and GF oatmeal for my son and I. After a quick breakfast we headed straight to the grocery store. On the way we noticed street vendors on every corner… selling bags of fruit, ice cream in cones (sell fast before it melts!), potato chips, candy, and smoothies.
The grocery store was was hardly more than a corner market. It didn't have much of what we needed, but we purchased 
some fruit, veggies, produce antibacterial wash, bottled water, chicken, rice, and a few snacks. Aside from the fresh produce and limited selection of meat and chicken, I didn't see any gluten-free products.
We did see some cool new fruits, and tiny quail eggs for sale on the shelf.
When we got back to the loft and put away the groceries, I noticed something missing: an oven. Apparently, ovens are uncommon in Ecuadorian kitchens. (Who knew?!) The kitchen did have cooktop burners and a toaster oven. However, all the numbers were worn off the temperature controls and timer of the toaster oven. With Thanksgiving only two days away, I knew cooking a traditional American holiday dinner was going to be a challenge.
We learned that the fruits and vegetables all need to be washed in a special antibacterial solution. We bought both brands "Vitalin" and "Star Bac" at the store because we weren't sure if one was better. (They work the same.)
The directions were simple: mix a capful with 1 gallon of water. We had to use our precious bottled water just to wash our produce! 
A childhood friend of my husband lives in Ecuador and told us we needed to shop at the SUPERMAXI, a larger grocery store which has many American foods. Once we stopped laughing about the store's name, we caught a taxi to the nearest location, right in the middle of a busy "American-type" shopping mall. They were even playing American Christmas music over the speakers. We were excited to see a ton of great gluten free options, labeled "Libre de Gluten" or "SIN GLUTEN" (a fitting name!).
In addition to our regular groceries, we bought GF pizza dough mix, pasta, brownie mix, and Pan de Yuca (yuca bread), which is similar to the Brazi Bites we buy at home from Costco. Interestingly, they had many types of drinkable yogurt available. But the only milk they sell is shelf-stable.
After eating all our meals in the loft for a few days, we were ready to venture out for lunch, called almuerzo. Armed with my Spanish Gluten Free Restaurant Card, we "spoke" (I use that term loosely, as we spoke little Spanish and he spoke no English) to the
manager of a quaint mom and pop diner in the same building as our loft. He read my restaurant card, assured us he would take care of us, and the food would be be gluten free. We sat down and he placed soup in front of us. It didn't *appear* to have any obvious gluten, so we ate it. Then he brought plates of chicken, rice, and veggies (which we didn't eat because we weren't sure if they had been properly sanitized).
That evening, we made an untraditional American Thanksgiving dinner of pan-fried chicken and potatoes, steamed broccoli, raw cucumber, and apple cobbler prepared in the toaster oven. It was delicious!
The day after Thanksgiving it became apparent my son and I had inadvertently consumed gluten. It wasn't our Thanksgiving feast, it was the restaurant we had eaten at the previous day. Not to go to into too much detail (this review is about food after all), but let's just say it resulted in repeated trips to the bathroom. We decided to eat at the loft to be safe.
Week 2
The following week, we moved to a different house, closer to the Parque de Carolina, a beautiful park in the center of town, and the SUPERMAXI. The Airbnb host is from the US and also follows a gluten-free diet. When we told her we had gotten "glutened" she knew the likely culprit: Maggi.
She told us that "Maggi" is the brand name of a type of chicken broth many of the small restaurants use in their cooking. Unfortunately, it contains gluten. (Interestingly, when I looked for gluten-free chicken broth at the grocery store later, I found only one that was gluten-free. It was made from quinoa.)
There was a tiny produce-only market only a block from our house. We would stop by every day to purchase fresh, inexpensive fruit. 
Week 3
We visited Mercado Iñaquito near the center of Quito and bought yuca flour from a vendor. Yuca flour is a great substitute for tapioca flour. The vendors had beautiful displays of perfectly-ripened fruits and veggies. They also sold whole-roasted pig and raw chicken, beef, and fish.
Our Airbnb host also recommended a Peruvian restaurant that serves gluten-free food. We did not get a chance to visit, but it's called Segundo Muelle and there are two locations.
Week 4
Our oldest son and my father-in-law arrived from the US. (My son didn't want to miss as much school, so he came later in the trip.) He brought us another loaf of GF bread and some GF tortillas, since we had run out.
Just about the time we figured out how to eat in Quito, we flew to the Galápagos Island, about 600 miles (1000km) off the coast of Ecuador. Thankfully, they speak more English on the Galápagos Islands since tourism is the major source of income. We flew into Isla Baltra and stayed in Puerto Ayora, on the island of Santa Cruz. We stayed in a small apartment with another tiny kitchen and even fewer food choices at the small market in town. We were able to purchase fresh fish, chicken, produce, eggs, peanut butter ($8 for a small jar), and preserves.
We took a North Seymour tour and saw some amazing creatures, such as land and sea iguanas, pelicans, frigate birds, and the rare blue-footed booby. The tour provided a hot lunch on board the ship. We were about to dig into the delicious feast of fresh tuna when we asked, "Does this have Maggi?" Sure enough, it did. We were able to eat the plain rice and (washed) salad, but luckily had brought peanut butter and jelly sandwiches just in case.
Several evenings, we ate out at local restaurants. We chose restaurants based on what we could read on the menu (if it was in both Spanish and English), if we could see they used mainly fresh ingredients, and if we were able to communicate properly with the server.
We ate at: Lemon & Coffee. The server spoke some English so I could tell her the food had to be gluten free. I had Arroz con mariscos (seafood rice), a traditional coastal Ecuadorian dish. (I found this recipe after we got home. I'm going to modify it and make it for the family now that we are home.)
After three days, we took a ferry over to Puerto Baquerizo Moreno on the island of San Cristobal. We stayed at Hostel Casa de Laura. The rooms were simple and had only a few dishes and a microwave, so we had cold cereal for breakfast, pb&j sandwiches for lunch, and ate out at dinner. The staff at our hotel were able to give us recommendations. We ate a delicious and safe dinner at Bambu.
Week 5
We traveled back from the Galapagos to Quito, and my father-in-law left to return to the states. We spent four more days in Quito in an Airbnb apartment with a kitchen that wasn't very well furnished. We managed to cook our meals in a combination of the microwave and toaster oven.
We went back to the SUPERMAXI for one more trip before heading to the coast for 8 days on the last leg of our trip. We were out of gluten free oats, so I looked for them in the store. Side note: In the US, oats are highly contaminated with wheat because both grains are grown in the same fields, transported in the same trucks, stored in the same facilities, and processed with the same equipment. Since much of Ecuador is at high elevation, I wasn't sure if they would have oats and wheat grown in the same location. The bag of oats I found at the store were clearly labeled as containing gluten.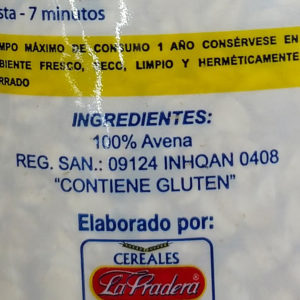 Traveling to the Coast
We were ready to complete the last leg of our journey. We took a bus to a small  town named Mindo, known for bird watching, zip lines, and chocolate shop. The boys in our family took a tour to learn how cacao is grown and made into chocolate.
We stayed in a quaint hostel called Hostel Henrry's. We didn't have access to a kitchen, so that night we ate at The Beehive. The menu was in both Spanish and English and we could tell the ingredients were simple and fresh. My son and I were able to communicate our needs with the staff; the food was delicious and we didn't have any issues with gluten contamination.
The next morning, our family went ziplining before hiring a driver to take us 5 hours to the coast. We stayed in a condominium community near a tiny fishing town called Tonchigue, about an hour south of Esmeraldas, the largest coastal city in Northern Ecuador. The coastal towns in Ecuador speak a different dialect of Spanish, where they cut off the ends of their words. It made translating from English to Spanish more difficult, and our son had difficulty understanding w
hat they were saying. We decided it was too challenging to eat out at one of the few local restaurants. Instead, we purchased our groceries from a local outdoor market. 
We bought fresh fish, local chicken eggs and all kinds of locally-grown fresh veggies and fruit.
Our apartment had a nice blender, so we made fruit smoothies every evening after dinner. Our favorite new fruits were babaco and guanabana (aka soursop).
We spent Christmas in Tonchigue. I had saved just enough GF flour to make homemade sugar cookies like we do at home. They were so good we ate them before we could get them frosted!
Week 6
After nearly six weeks and two holidays in Ecuador, we were ready to head home. We flew a red-eye back to the US on Delta Airlines. I had ordered GF meals for my son and I on the flight from Quito to Atlanta. At about 3am, the flight attendants came through with our meal service. The "gluten free meal" they served: 4 slices of orange, 4 slices of kiwi, and *GASP* a regular muffin. Luckily, even in my groggy state I knew not to eat the muffin. Luckily I was able to warn my son in time. The standard meal my husband, daughter and other son received? A turkey breakfast sandwich, cheese, fruit, and a small drinkable yogurt. I was frustrated and hungry. Then on our flight from Atlanta to Oregon, they had GF Kind bars, almonds, and GF pretzels for snacks. Delta redeemed themselves!
Advice for Eating Gluten Free in Ecuador
Decide before you go if you will be eating mainly in restaurants or if you will be preparing your own meals.
If possible, I recommend staying in Airbnbs, condos, or apartments which have at least a small kitchen to prepare simple meals.
If you speak Spanish, you may be able to communicate your needs with restaurant servers and chefs. Our sons speak Spanish pretty well, but still found it hard to explain what we COULD and COULDN'T eat.
Restaurants are trying to please you. They may tell you what you want to hear rather than make sure the food is SAFE for you to eat.
Avoid fried foods. They do not have dedicated fryers. They serve a lot of french fries since potatoes are an Ecuadorian staple. They often cook empanadas in the same fryer.
Food that is plentiful in Ecuador: rice, potatoes, fresh fruits and veggies, chicken, fish, seafood and eggs.
A lot of food availability depends on if you are in a city or a small town. Small towns do not carry GF foods. The small towns we visited only had large unrefrigerated cuts of beef for purchase.
GF Groceries we were unable to find in Ecuador: sandwich bread, crackers, soy sauce, oats, flour mix that doesn't contain quinoa. You might want to pack these in your suitcase and bring with you, depending on how long you are gone, and how much you are preparing your own food.
All in all, a fantastic trip. I highly recommend you visit Ecuador!
Note: this post contains Amazon affiliate links